Jodi Eisner, M.S.W., CPO
Certified Professional Organizer
President of NAPO Pittsburgh
See Jodi's KDKA Story View it ...
For a Consultation
Testimonials
"Having Jodi in our home was a life-changing experience. Sure, we expected to get our home organized, but we didn't realize that Jodi's expert advice on how to simplify our daily routines
would have such an impact on our lives! We have no clutter, no more wasted energy managing it, and more time to spend doing things that we love. We recommend Jodi to everyone we know!"
Vince & Karen, Cranberry Twp.
I was amazed at how quickly
I made significant improvements
to my home and my time schedule!
Carol (Business Owner)
Once Jodi & I determined my
plan of action, she stepped in
and made the process easy,
fun and empowering!
Lynn (Attorney, Single Mom)
Member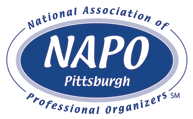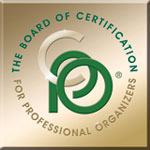 Awards
Becoming Organized Means A Better Life

We are all leading hectic and stressful lives. We are so busy working, working, working and running, running, running that we lack the time and energy to take care of our nest, our haven, the place we call home. As a direct response to this, a new business, specifically, that of a professional organizer for homes has emerged.
On a small scale, becoming organized at home is about getting rid of your clutter and reorganizing your space. On a large scale, being organized is about reducing stress. But it doesn't stop at home, we also help streamline and organize corporate environments.
Reducing stress in your home will make your time at home more enjoyable, help you sleep better, and improve your work day. Simply put, if you organize your home, you will not only dramatically IMPROVE your home, but more importantly YOUR LIFE.
And that is where we, as professional organizers come in.
What We Offer ...
As Professional Organizers
We perform an initial consultation. The purpose of this consultation is to understand your lifestyle, identify stress free zones, and ultimately create an organizational system that works for you and fits your lifestyle. We do not tell you how your home should function. We learn how you want your home to function and work with you to create systems to achieve that.
And, our services are CONFIDENTIAL.
Our Services Include:
Consultations

De-cluttering of your home

Identification of "Activity Zones" and "Stress Free Zones"

Reorganization of existing space

Identification of organizational products for your home
and your personal use

Remote support through Skype, Facetime, and Google Plus

Quality referrals for outside resources

Support for businesses to help streamline and organize your
operations to increase productivity

Strategies for moving and downsizing

Systems and strategies to keep you organized for life!
Contact us for a speaking engagement customized to your group's needs.
Jodi Eisner , M.S.W., CPO ®