Jodi Eisner, M.S.W., CPO
Certified Professional Organizer
President of NAPO Pittsburgh
For a Consultation
Member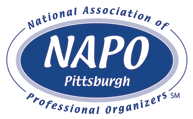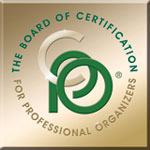 Awards
About Jodi
Jodi Eisner, President of Method to the Madness, received her Bachelor of Arts degree from the University of Tampa in 1987 and her Masters of Social Work from the University of Pittsburgh in 1999. She was a social worker from 1989 through 2000. In 2000, Jodi turned her passion for organization into a successful business as a professional organizer.
In 2000, Jodi recognized it was not a coincidence that her home (which consisted of two very active daughters, an organizationally challenged husband, and a dog) ran very smoothly.
She helped a friend going through a divorce. Their goal was to reorganize her friend's home. Because of Jodi's social work background, this process ultimately did far more than that, it changed her friend's life. From that point forward, Jodi has been working with clients developing organizational systems suitable for them to reduce stress and by doing so, improve their lives.
When Jodi is not directly improving lives, she has a busy speaking schedule, ranging from speaking to a small group of parents to speaking on behalf of large corporations.