Jodi Eisner, M.S.W., CPO
Certified Professional Organizer
President of NAPO Pittsburgh
For a Consultation
Jodi Eisner is a powerhouse of energy. She bounced into our living room with fresh, new ideas and sensible ways to implement them. An organizer sees every drawer, every cupboard and every closet in your house. Jodi's background in Psychology enabled her to be sensitive, patient, and confidential. She was non-judgmental and practical, and I always felt safe with her. Jodi was there to help, teach and empower me to become organized, efficient and proactive, and besides, she was just fun to be with! We listened to music and talked while we cleaned closets and cupboards together. Jodi has a great sense of humor, she's kind and empathetic, and she knows when to push -- and when not to.
I would highly recommend Jodi to anyone looking to make a difference in their space and in their lives.
Ilana
Member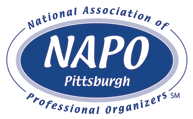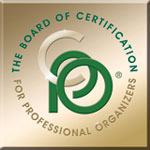 Awards
Our Resources
Are you looking for products that the professionals use? Well, this is the place!

Owned and operated by a working Professional Organizer and partnered with Professional Organizers all over the country, you are sure to find the best of the best in organizing products.

Neatnix Organizing Systems offer clever and innovative ways to solve your organization problems.

From work to home they have a solution for all your storage needs.

Blockware is dedicated to unique storage solutions for an easier life. Their goal is to design and develop products that optimize both function and fashion while at the same time offering them at an affordable price. They stand behind their products and strive for the best customer service the industry has to offer.

Jane is a big girl now, and while she might still occasionally manage to skip rope, she must also manage her career, her home, and her future.

See Jane Work offers working women, no matter what kind of work they do, the tools to manage their time efficiently, and to get and stay organized.